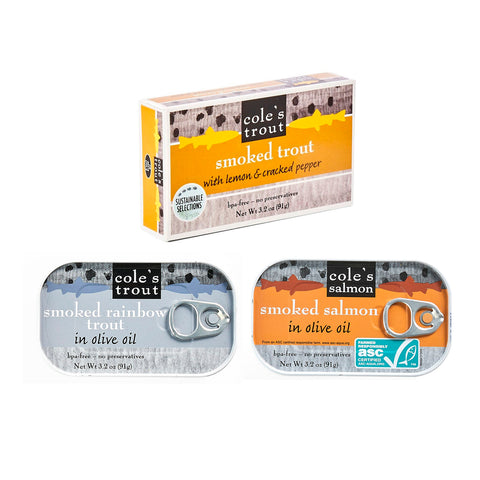 Smoked Fish Fillets Variety Pack - 3 Cans
Are you tempted by our delicious smoked fish fillets? Now you can try them all with our new Smoked Fish Fillets Variety Pack. This variety pack includes 1 can of each of: - Smoked Rainbow Trout Fillet with Extra Virgin Olive Oil - Smoked Rainbow Trout Fillet with Lemon & Cracked Pepper - Patagonian Smoked Salmon Fillet in Extra Virgin Olive Oil
These ready to eat salmon and trout fillets can be a great snack paired with crackers or can be added to any delicious meal for some extra protein! Share them with friends and family, or take them on your next outdoor adventure.
DISCOVER MORE ABOUT THESE PRODUCTS
High in Protein
High in Vitamin D
Natural Source of Omega 3
Natural Source of Omega 3
Premium Extra Virgin Olive Oil
Gluten-Free
Farm Raised Trout & Salmon
ASC Certified (Salmon)*
Low Carb
Preservative Free
BPA-NI Cans
Product of Chile

* This product has met the ASC's global standard for responsibly farmed seafood. www.asc-aqua.org. ASC-C-02048

Did you know that Cole's is the #1 brand in the USA for canned trout and mussels? The Cole's team would like to thank all our customers for supporting us in this achievement.

Source: IRI-Total US MULO Latest 52 weeks ending 8-18-23

See Nutrional Information and Ingredients for more details.
SHIPPING